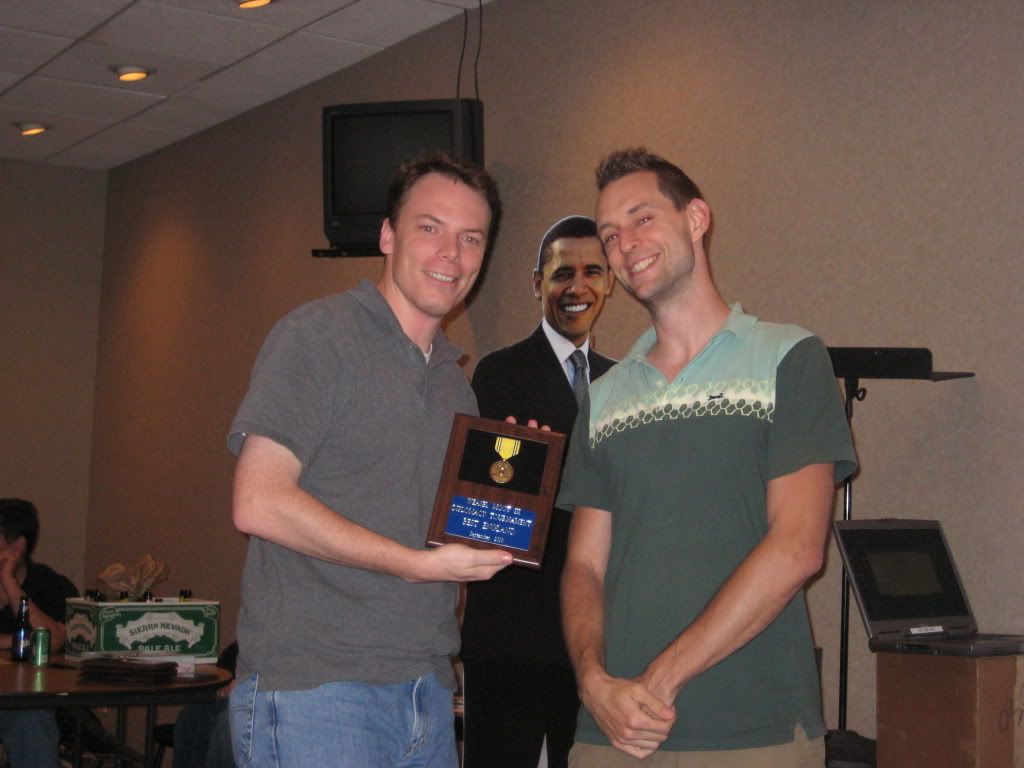 Former World Champ Doug Moore (left) accepts the Best England award from Tournament Director Jeremiah Peterson at Weasel Moot III, as President Obama looks on.
President Obama, the Blackhawks and the Windy City Weasels cordially invite you to the cozy southwestern suburb of Burr Ridge for the fourth installment of the Diplomacy hobby's best-named tournament, Weasel Moot IV, to be held Sept. 24 to 26 at the Quality Inn. Preregistration is now open. All the details you need are right here.
What: Weasel Moot IV, the Windy City Weasels' premier Diplomacy tournament. The three-round tournament is the ninth step of the 2010 Grand Prix and the third step of the Central Shuffle.
Where: The Quality Inn in Burr Ridge, 300 S. Frontage Road, Burr Ridge, IL 60527.
When: September 24 to 26. Here's the schedule:
Friday, September 24
Round 1–Hat Night! Wear your finest and/or funniest hat. Best lid wins an award!
Registration: 6:15 to 6:45 p.m.
Board Call: 7 p.m.

Saturday, September 25
Round 2–Team Round! Recruit two friends, craft a clever name, and compete for top team honors. Best team name also wins a prize!
Registration: 9:00 to 9:30 a.m.
Board Call: 9:45 a.m.

Round 3–Movie Night! Come for the Diplomacy, stay for the finest films in Tournament Director Jim O'Kelley's collection!
Registration: 6:45 to 7:15 p.m.
Board Call: 7:30 p.m.
Sunday, September 26
Awards Ceremony: 10 a.m.
Group lunch off site: 11 a.m. (Pay your own way.)
How Much: The registration fee is $40, $20 for students. However, you'll save $5 if you preregister, $2 if you're a student. And if you're a paid-up Weasel, you get a discount of $5! Preregistration is now open and will be through Sept. 21. To preregister, kindly fill out the information below to PayPal your fee to wcwsneak@gmail.com.
Lodging: Here's the best part: A room at the Quality Inn is only $79 per night, and that includes breakfast! To reserve your room, please call 630-325-2900 and mention that you are with Weasel Moot. Check out this flier for more on the hotel!
Awards: Yep, we'll have them, and it only takes one round to qualify. You'll compete for first- through seventh-place plaques, plus the coolest Best Country awards on the circuit. Plus, we'll have awards for the best team in the Team Round, and other fun prizes.
Scoring: We'll be using our tried-and-true Modified Whipping scoring system. Your best two of three rounds will count for score. For details, tournament rules and the like, click here.
Questions, Comments, Concerns: Email weaselmoot@gmail.com.

Check out these tips for attendees. And here's the current list of attendees.
Weasel Moot IV Registration Payment
{nicepaypal:pay||Weasel Moot IV Registration|||||||field;Name;Enter your name;60|field;Hometown;Hometown;60;;dropprice;Registration Type;Select your Registration Type;Student Weasel Member Early Reg.:13.00;Student Non-Member Early Reg.:18.00;Weasel Member Early Reg.:30.00;Non-Member Early Reg.:35.00}